Back in October, Daniel and I were married in London. Due to immigration stuff, we didn't have our US wedding reception here in Minnesota until this past Sunday. It turned out to be a beautiful day. The weather was perfect, everyone seemed to have a good time, I saw so many people from my past and I got to wear my awesome wedding dress again!
My best friend Tiffany, who has her own photography business, Timeless Expressions, took our photos. Her professional photos will be ready in a few weeks, but for now a few snapshots of the day.


Displaying a couple photos from our wedding last October
Photo by Daniel

With our Norwegian wedding cake, called kransekake. We did the Norwegian tradition of cutting it, breaking it into tiny pieces, giving each person a piece and then doing a toast for good luck before eating.
Photo by my Aunt Dotty

and the cake on its own
Photo by Daniel

Inside of the venue

and outside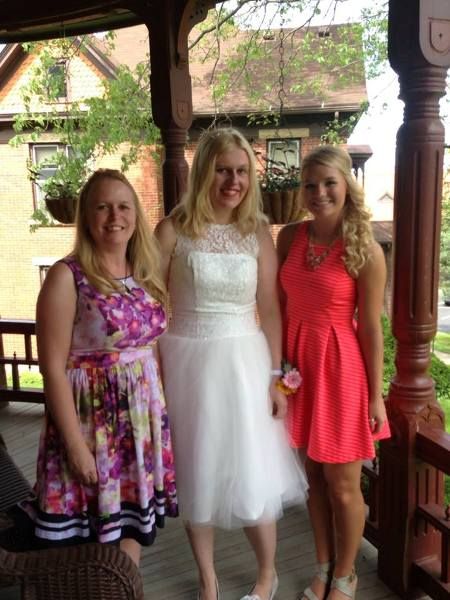 with my cousin Darci and her daughter Kari
Photo by Darci's husband Bob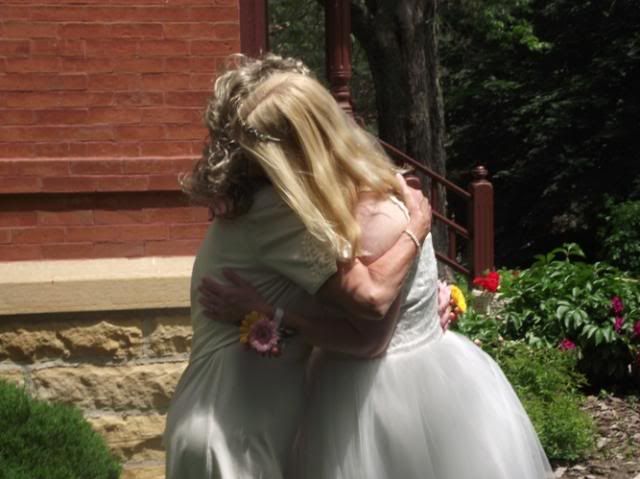 hugging my mom
Photo by my Aunt Dotty

Besides our wedding reception, the rest of our week in Minnesota has been great as well. A summary of events:
Going to the Coffee Hag and antique shops ♥ Taking Daniel to the Lower Sioux Pow Wow out on the reservation where there were 500 Native American dancers in traditional dress ♥ Spending time with my relatives from all over the US, especially Dallas and Seattle ♥ Running in the pouring down rain into Target with Tiffany ♥ TARGET ♥ Finding a pile of old movie posters at an antique shop and buying one for $2 ♥ Drinking duck farts (Baileys, Kahlúa & whiskey together) ♥ Finding old photos (Terra, Becky, Heather – I have some really funny/embarrassing ones of us) ♥ taking silly photos with Tiffany at German Park ♥ 7-year old Brooklyn calling my name "Christinnaaa!" when seeing me downtown ♥ Skyping with my cousin/godchild Sidoni, finding out she did her book report on Bob The Street Cat! ♥ Tiffany's cat Sassy cuddling with Daniel and I ♥ My Aunt Dotty's almond cake (not the same as the kransekake, but just as good!) ♥ Having lunch with my godchild Lily where she got a free birthday ice cream sundae!
Lastly, here's me having an iced latte at a used bookshop in my hometown.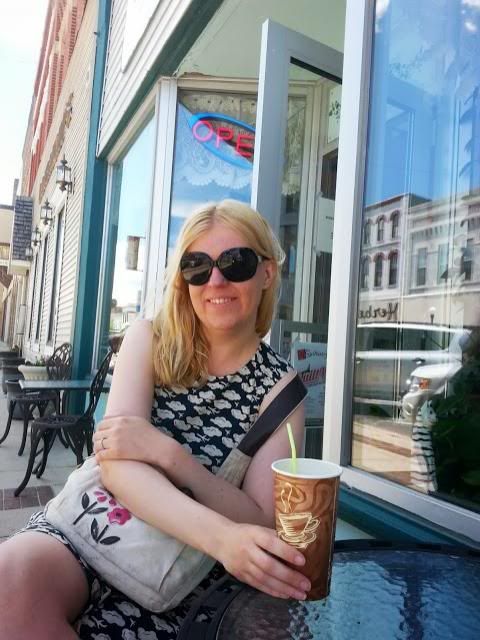 Photo by Daniel

Now, back to London! xoxo