There has been much talk about the "David Bowie Is" exhibition currently at the V&A Museum in London. I originally didn't want to post about it because what else can be said? Well, I finally saw the exhibit with my friend Maria a few days ago and it definitely lived up to the hype! I have been to a few V&A exhibitions before but never one so elaborate and complete with intelligent audio guides that automatically switch music or narrative depending on where you are! I won't say too much else as I don't want to spoil anything for those who haven't been, but one issue that both Maria and I talked about afterwards was that if David Bowie was a woman, she probably wouldn't have been as successful.
We argue that while we love the fact that Bowie was gender-bending from the late 1960s on, and really promoting that you should be yourself, at the same time it still seems more socially acceptable for men to break the gender role norms. I am all for equal rights for everyone, that's why it bothers me that there is a gender divide, even within drag. For example, look at all the mainstream male rock stars/artists/comedians who have dressed in drag: Freddie Mercury, Andy Warhol, Peter Kay, Eddie Izzard, Grayson Perry, Noel Fielding, Elton John, Boy George, The Rolling Stones and Nicky Wire, to name just a few. Apparently women dressing in drag was popular from the early 1900s – 1940s. Unsurprisingly, the 1940s was also the time where strong female Hollywood movie roles that went to the likes of Mae West and Greta Garbo changed in favour of more docile roles played by actresses such as Marilyn Monroe or Jayne Mansfield (Complicated Women is a great book about this). Anyway, I can't think of many more recent mainstream female artists challenging gender roles and being hugely successful – except Tilda Swinton (is she mainstream?), Annie Lennox, Grace Jones and Lady Gaga with her alter ego "Jo Calderone", who appeared and then disappeared pretty quickly. There actually was an Annie Lennox exhibit at the V&A recently, but it was nowhere near the current Bowie extravaganza.
So why is it more acceptable in our society for men to break the gender rules? After some research, I found a Drag King stating "We live in a society that sexualizes femininity, so to have a woman dress as a man breaks those norms and mainstream society has a difficult time seeing women in masculine roles," while on Yahoo! Answers (always a source of entertainment) somebody said because "women enjoy it less" and another person said "Drag Kings don't sing as well". Right. OK. I'll go with the statement about society sexualizing femininity, as I agree.
Anyway, I do really recommend the Bowie exhibit. You can still get tickets in person at the V&A if you're lucky. The exhibit is wonderful, and to celebrate Bowie in his gender-bending glory, have some videos:
& lastly, I couldn't leave the exhibit with some Bowie gifts….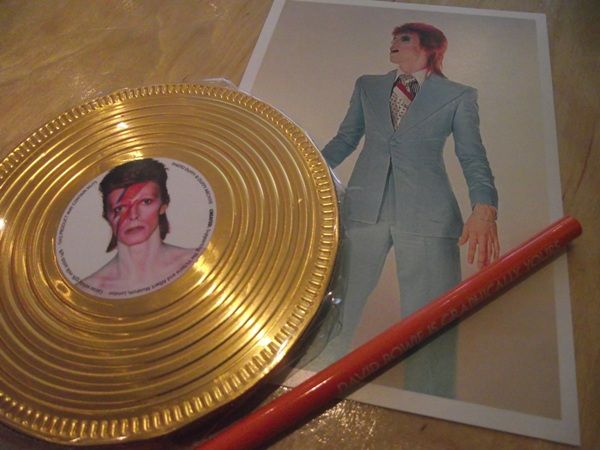 If you haven't guessed from the postcard and the above video, I really love "Life On Mars". xoxo