Some of my friends know I'm a fan of Miss Led's work. Yesterday I was lucky enough to attend her illustration workshop for London Fashion Week at Cass Art. It was really fun!! We were spoiled for choice on what materials we could use, and personally, it got me out of the mindset that I need to paint everything. I enjoy painting, but there is a world out there full of markers, inks, pastels and pencils that I could also use. I have always known this, of course, but lately I've been so focused on only acrylic painting and it was great to do something different.
I have to admit at first I had technical difficulties as I pressed too hard with a soft pencil in order to trace my own image that I brought to class with me. This was resolved quickly and from then on, it was just 2 hours of being creative and having fun. Did I mention it was fun? Because it was fun. 😉
Miss Led was very supportive of our work, and my classmates were extremely talented. The girl next to me did an illustration that looked like it was from a 1950s fashion magazine. Amazing. Also, at the end of class Miss Led photographed each of us with our illustrations as I think she was impressed as well.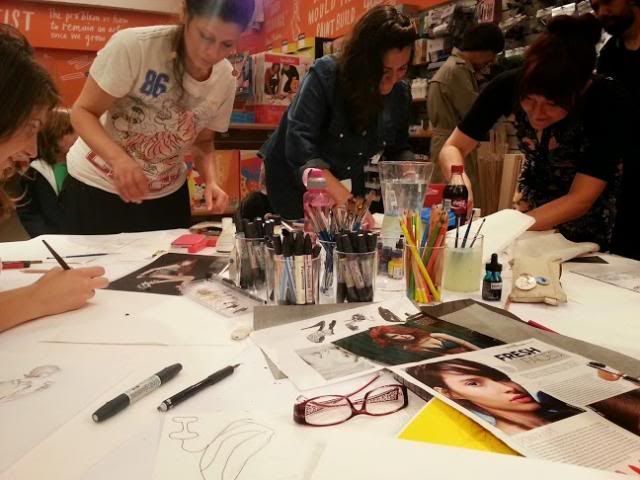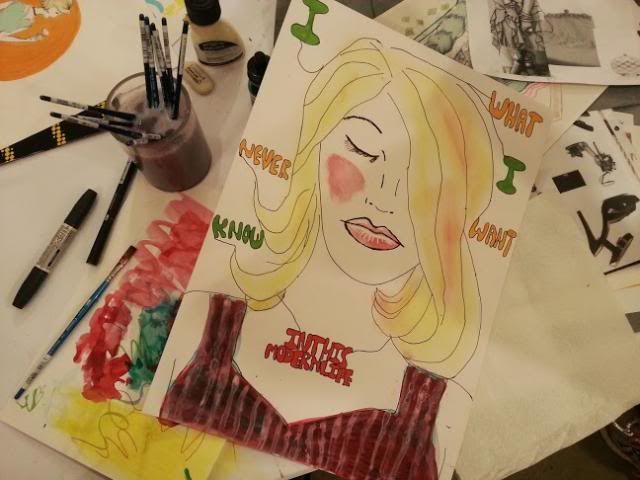 If you haven't guessed, my piece is called "I Never Know What I Want In This Modern Life", with the "In This Modern Life" part inspired by
Tatty Devine
and
Black Heart Creatives
necklaces. I wouldn't say it's finished, but it's finished for now. xoxo