♥ Debating with friends on whether Lee Miller was a feminist or not. Granted, she was successful at a time where women just got the right to vote, but she was sometimes reliant on men…and was best friends with Picasso….discuss.
♥ The new Primal Scream album! "It's Alright. It's OK" makes me dance.
♥ Icelandic band
The Dead Skeletons
– their music, Nonni's watercolours and their channel DEAD TV.
♥
My friend Alice's blog post on our evening at Ms. Cupcake's Book Launch Party
. It really was that fun!! And Ms. Cupcake also inscribed my book. 🙂 Here is a bonus photo of me, Alice and our friends surrounded by vegan cakes, ice cream and cocktails: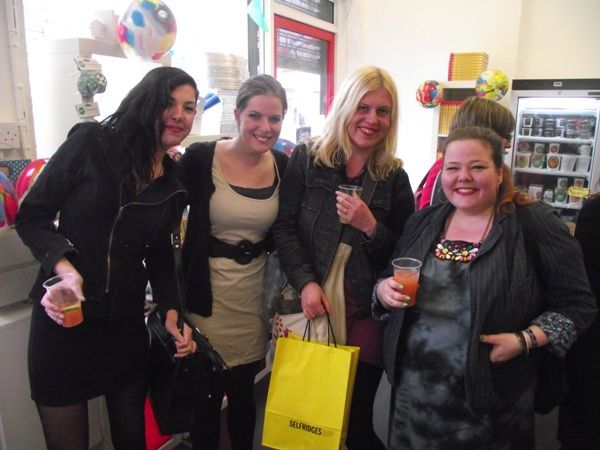 ♥ Teapigs' "Super Fruit" Tea. I must be becoming British when fancy tea makes me happy. (Note: I never drank tea before moving here)
♥ Chai Lattes from
Belle Amie
. The more you like cinnamon, the more amazing they are.
♥ London riot grrl bands like
Skinny Girl Diet
and the still-new club night
Bloody Ice Cream
.
♥ This
Tatty Devine Cherry Blossom necklace
. My birthday is in July….ahem. Or if someone really has money to burn, there's this
large version of the Cherry Blossom necklace
which I'm convinced I could rock!
♥ Hanging out with my baby nephew.
♥ My friend Maria's backpack: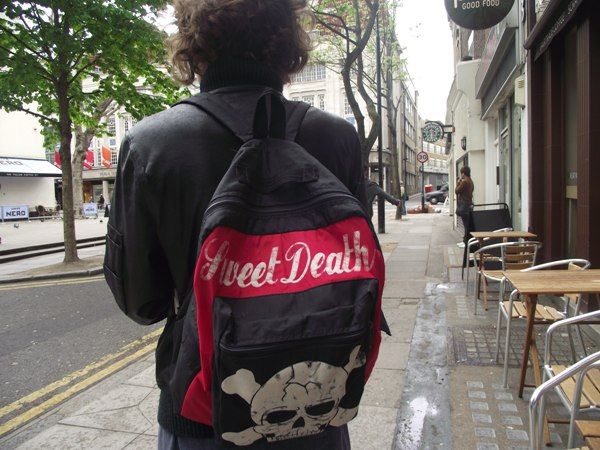 ♥ This
poster of Minneapolis by Albie Designs
. All of her city posters are awesome.
♥ The idea that this woman got paid to raise geese as astronauts and put them in a moon analogue…
watch the documentary
!
♥ Random bubbles floating above the Thames…
♥ ….and thinking of upcoming travels with my husband. As much as I love the internet, I sometimes love being away from it too. xoxox