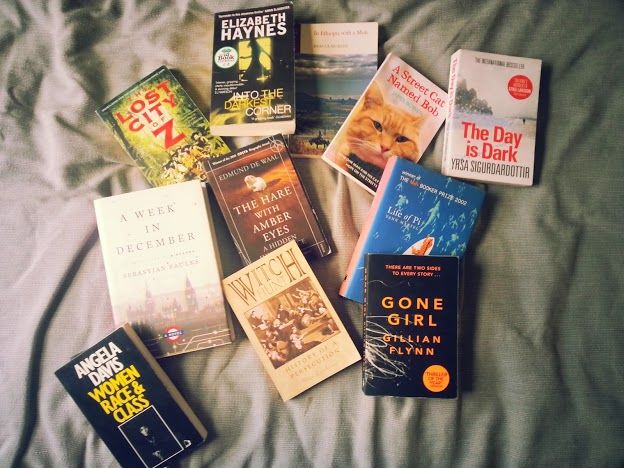 ("La Lacuna" and "One Step Too Far" not pictured as I gave them to friends)

"A Street Cat Named Bob" by James Bowen
"Into the Darkest Corner" by Elizabeth Haynes
"Life of Pi" by Yann Martel
"In Ethiopia with a Mule" by Devrla Murphy
"Gone Girl" by Gillian Flynn
"La Lacuna" by Barbara Kingslover
"One Step Too Far" by Tina Seskis
"The Day is Dark" by Yrsa Siguardardottir
"The Hare with Amber Eyes" by Edmund De Waal
"Witch Hunt: A History of Persecution" by Nigel Cawthorne
"The Lost City of Z" by David Grann
"A Week in December" by Sebastian Faulks
"Women Race & Class" by Angela Davis (still reading)
Out of the above books…
Best: Gone Girl by Gillian Flynn. The story kept me on the edge of my seat. If you enjoy books that go back and forth between two narratives with cliffhangers on the end of each chapter, then I highly recommend this book. It gets to the point where everything is so chaotic and intense you have to find out what happens next.
Worst: The Life of Pi. I know this is a famous book, but it didn't do anything for me. I struggled to get through it, and I really hated all the animal violence. I know that made it more realistic, but it doesn't mean I find it enjoyable.
Most fitting at the time: The Hare with Amber Eyes. I read this on the way to Vienna, finishing it as soon as we entered the outskirts of the city. There is something really amazing about reading this book in Austria, and then arriving in the main setting of the book as soon as you finish.
Favourite character: Frida Kahlo in La Lacuna. Frida Kahlo was obviously a real person, but I liked how Kingslover depicted her personality in fiction. I'd want to hang out with her.
I'm surprised that I've read and finished 13 books so far this year (well, 13 when I finish the Angela Davis book) because I seriously thought I was way behind from this time last year. Last year I read 28 books, so it's still possible to surpass that this year!
Please recommend any good books that you've read and leave them in the comments. I'm always up for reading something new and/or different. Thanks. xoxox